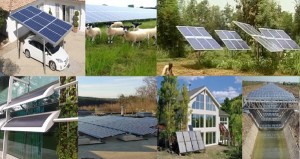 The mounting of solar panels solely depends on the location where solar panels are going to be installed. Generally, solar photovoltaic panels are mounted on the rooftops using metal frames and bolts, that removes the need for additional structure to support solar panels. However, in some cases, a building's roof may not support solar power plant installation due to issues such as insufficient space, complexity of roof, shading or roof's integrity. In such a situation ground mounted or pole mount solar panels is the best option.
Ground-mounted solar panels are different from solar parks, which is a concentrated zone of development of solar power generation projects. The solar parks are characterized by proper infrastructure developed from scratch, including barren land and others features including huge number of solar panels spread over large area; ground-mounted solar panels involve only a few clusters of solar panels.
On the other hand, ground-mounted solar projects are usually large, utility-scale photovoltaic power stations. Ideal for locations that are off the grid where getting electricity from the state grid is a difficult task and cater to either an individual user or a group of beneficiaries who have joined hands together to avail benefits of solar power. The Ground-mounted photovoltaic solar panels are held together by racks or frames attached to ground based mounting support such as: –
• Pole mounts, driven directly into the ground or embedded with concrete.
• Foundation mounts joined with concrete slab or poured footings.
• Ballasted footing mounts, where concrete/steel base is used as weight to secure the solar panels at one place but they don't penetrate the ground. This suits sites where excavation isn't possible such as landfills, also it simplifies decommissioning or relocation of solar panels.
A solar panel performs to the best of its capacity when its surface is perpendicular to the sun rays, which change continuously over the course of the day and season. It is a common practice to tilt fixed photovoltaic module at an angle same as the latitude of sun's array to maximize the power generation. Rooftop PV module at the tropics provides highest annual energy yield when inclination of panel surface is close to horizontal direction.
Why Opt for Ground-mounted Solar Panels
When you decide to opt for solar power, you can choose to install photovoltaic solar panels on rooftop of house (i.e. rooftop installation) or in the front side or back yard (i.e. ground-mounted installation). So it is up to you which type of solar installation you choose.
Rooftop Solar installation has many things going for it such as aesthetics, space optimization, fortification, speedy installation but there are problems too. Problems like space limitations due to obstacles like chimneys, vents, antennae; tree shading; orientation – as solar panels work best on south-facing roofs. A different orientation can cause problems; there is a need for pre-installation upgrades where older roofs may need to be fortified before installing solar panels; neighbourhood issues where homeowner's associations may not prefer solar panel installations on roof that are visible from the street. In such cases the less common, ground-mounted solar panels can be best suitable option.
The residential ground-mounted solar panels can be of great use and help save more money than rooftop solar panels. Consider the benefits:-
• Installation Size—if your property has lot of unused land, you can install much larger size of photovoltaic panels on the ground. While installing rooftop solar panel system the size of solar can be constrained by size of roof. Also the room for expansion of ground mounted solar panels is more based on land availability something that can't be done in case of rooftop solar panels.
• Maintenance– the maintenance of photovoltaic panels is a must on a regular basis to keep them clean of dust, sediments, as these may hamper power generation capacity of the solar panels. Since the ground mounted panels are more easily accessible and comfortable to work around, maintenance and trouble-shooting are easier than rooftop solar panels.
• Orientation—for properties that don't have south-facing roofs, ground-mounted solar panel installations are best suited as they allow to maximize solar energy generation potential. The angle of solar panel if not correct on the roof it will result in further loss of overall solar power production. Ground mounted solar panels allow more flexible in both cases.
• Shading—the solar panels can be installed in any part of the property that receives the maximum sun rays throughout the day thus avoid any chance of shading.
• Performance—ground mount solar panels work better than rooftop solar panels as those on the ground enjoy more air to cool the panels than the rooftop solar that are within inches of hot roof surface. The solar photovoltaic panels are designed to last decades but any damage to roof means the rooftop solar panels have to be removed/replaced or shifted whereas ground mounted solar panels can stay at the same place as long as possible.
• Fewer Changes—since the solar panels are installed on the ground as such no change are needed on the rooftops. Rooftop panels may damage the roof or the bolts that hold the panels/structure may have to be replaced in the future, something that is not the case with ground mounted solar panels.
The Downside of Ground-Mounted Solar Panel
Even though properties with small rooftops have to opt for ground-mounted solar panels but there are some issues due to which people may avoid ground-mounted photovoltaic systems, these are:-
• Less Open Land—while installing solar panels in the open yard, some open space is used up leading to less space left for other activities.
• Land Cost – Installing panels on ground will put an additional cost of land on the overall costing. Once installed, the land cannot be used for further purposes.
• Time/Effort—as ground-mounted solar power installations need underground wiring for safety purposes as well as additional digging that helps stabilize the solar panels, it may result in more expense in terms of time and money.
• Damage—solar panels installed on the ground may be damaged by branches falling from trees within/outside the property boundaries.
Ground-Mounted Solar Panels as Shade Structure
Ground-mounted solar panels can also be used as shade structures in areas where the panels double up as shade covers, such as portico or patio. Even though the cost of such ground-mounted solar panels that provide shading is bit more than standard patio covers. The support structure on which these solar panel cum shading systems are mounted is similar to normal ground-mounted solar panels as they weigh same.
Only in case if the solar panels are mounted at an angle steeper than normal patio/portico cover, car park; the support structures may need extra strengthening. The solar panel covered car parks can be on individual or collective basis, with many car owners joining hands together. Speciality of such panel cum shading structures are many chief among them are easier maintenance, concealed wiring boosts aesthetics of shading structure. The idea of growing vines around the ground-mounted solar panels or shading structure should be avoided as they may damage the wiring and create problems for these panels to work fully.
Ground-Mounted Solar Panels in Agriculture
Ground mounted photovoltaic solar panels can also be used in other activities such as agricultural. Ground mounted solar power plants can be used to power tube wells, sprinkle water/fertilizer. These can also be used to create shades for poultry farms, cattle/sheep shed, canals, horse shed among others. Agriculturist with a little bit of training can very easily maintain these solar panels as well as start earning extra cash to supplement their earning by not just entering into power sharing deal with state grids but also sell water generated from solar powered tube wells.
As per the requirement and based on the situation and preference of user, ground based solar power plants can be adopted. However as these are ground based, these should not be confused with solar parks that are more sophisticated and deployed on a much bigger mass scale.
Whether it is ground mounted solar panels or roof mounted solar panel, whichever is deployed the prime concern is requirement, viability, cost and preference of the user.