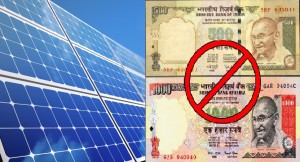 Impact of Demonitization of Rs 500 & Rs 1000 Notes
On November 8, 2016 Narendra Modi, Prime Minister of India in a televised address declared that Rs. 500 and Rs. 1000 notes wont be legal tender any more. It effectively meant that the demonetisation policy adopted by the government would take out more than 80% of cash from the market. The decision had huge impact on the Indian economy. There was huge cash crunch in the market, and most people are either standing in line in front of banks to exchange notes or deposit the old notes.
Life practically came to standstill, with businesses hit as money went out of circulation. Mercom Capital Group believes although chaotic, the Indian government's decision can benefit the banks, potentially allowing them to loosen lending criteria for solar power projects and bringing down interest rates, that will eventually help solar power distribution companies.
Can Solar PV Industry Benefit from Demonitization
Mercom Capital Group believes solar PV industry will benefit from demonetisation as banks will be flooded with cash as people exchange the banned Rs 500 and Rs 1000 notes and distribution companies (DISCOMs) will also be aflush with cash as people queue up to pay pending, overdue or future utility bills using old notes. All this will allow banks to lend money at lower rates and DISCOMs to even allowing discounts on payment something hitherto unheard off with respect to DISCOMs that were always short of cash due to non payment of bills.
While demonetisation move by Prime Minister Narendra Modi was primarily to halt the spread of black money and fake currency across the country, amnesty on taxes and penalties provided to black money holders will inject additional revenue into government coffers allowing them allocate more funds for infrastructural development and new projects. An official at the Ministry of New and Renewable Energy (MNRE) said "India is largely a cash economy so in the short-term demonetization is going to hurt installations as small developers will find it tough to pay for land acquisition, but in the long term it will be beneficial as DISCOMs will get paid, lending rates will fall and foreign investment will increase in the face of a falling rupee and rising dollar."
Mercom Capital Group CEO Raj Prabhu said "This combined with the rapid decline in solar components costs is making a lot of low questionable bids feasible. However, we have to wait and see how government agencies handle the situation – especially payment issues – going forward." Despite being one of India's strongest solar states; the tepid response to a 500 MW solar tender issued by Tamil Nadu Generation and Distribution Corporation (TANGEDCO) was largely a result of demonetization, but Mercom Capital reports that the MNRE sees this as an exception, and not the rule. Mercom Capital Group believes India's demonetization program, may cause short-term cash flow problems for small time solar power developers.
Silver Lining Out of Demonitization for Solar PV Industry
However everything has its silver lining, for instance the solar power industry despite the cash crunch is looking to do brisk business owing to favourable conditions. Reduced bank deposit rate is allowing the investors to explore different types of long term investment options providing better returns. Below is a summary of some of the long term investment options widely available:-
1. Equity Markets – Highly volatile, it makes the decision to make long term investment in equity a difficult decision.
2. Mutual Funds – Market volatility means there is limited chance of handsome returns.
3. Fixed Deposit – though the safest option but reduced fixed deposit rates with banks implies lesser returns.
4. Property – Demonetisation and the upcoming steps of government is expected to slow down the real estate and reduce property prices. Moreover, property demand is expected to reduce resulting in further slump fuelling more uncertainty.
5. Solar – This is the right time to invest in solar power industry as it offers many benefits:-
a. Diversified and constant income stream.
b. Very low involvement in the operations gives you time to concentrate on other businesses.
c. Financial incentives like accelerated depreciation help in getting tax benefits and boost savings.
d. Healthy returns over a long period of time.
Bank on Vivaan Solar to Meet Your Power Needs & Expand Investment Options
Vivaan Solar provides you with the perfect opportunity to start a new business with the following options:
Option1: Invest in Solar Parks
Invest in large Mega Watt (MW) scale solar parks by Vivaan Solar. Be a part of our solar park and get a constant, hassle free and fixed income stream. Other benefits include:
1. 10-year income tax holiday on revenue generated from solar.
2. Claim accelerated depreciation too.
Option2: Install Rooftop Solar on Your Premises
Install rooftop solar plant at your office or premises using the expertise of Vivaan Solar. We will help you cut down on your ever growing electricity bills and also offer you financial incentives in the form of net metering and accelerated depreciation.
Option3: Avail the Easy Finance
Avail the easy finance scheme options that Vivaan Solar has to offer for all those who wish to install rooftop solar power systems at residential as well as commercial buildings. Take a look at the below link;
http://www.vivaansolar.com/home-owner.php
Vivaan Solar is a turnkey solar solution provider and has installed multiple solar parks/rooftops across the country. We are an MNRE accredited channel partner. For more info you can visit our website: www.vivaansolar.com or contact our Sales representative @ 9999055452 and mail- info@vivaansolar.com
Source:-
http://www.pv-magazine.com/news/details/beitrag/india–demonetization-program-could-boost-solar-industry–says-mercom-capital_100027104/#ixzz4S542cYtS
http://www.pv-magazine.com/news/details/beitrag/india–demonetization-issues-add-to-curtailment-concerns-in-tamil-nadu-solar-auction_100027039/#ixzz4S54Q6KGQ