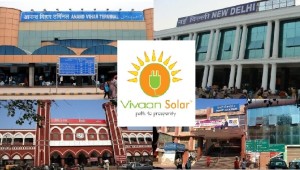 Great News!!! We are glad to share the news that Vivaan Solar has bagged the order to install 5 MW roof top solar power installation at each of the 4 major railway stations in the National Capital Region of Delhi.
The 4 railway stations for which Vivaan Solar has got the contract to install 5 MW roof top solar each are the Anand Vihar Terminal railway station, the Hazrat Nizamuddin railway station, the Old Delhi Railway Station, and the New Delhi railway station.
This deal to install rooftop solar power installation at the major railway stations of Delhi NCR will further cement Vivaan Solar's position as a solar power EPC contractor.
Details of the procedure before tender was awarded
The tender was issued by Northern Railways, New Delhi to install 5 MW Solar Roofotp on 4 major stations –
New Delhi (1.1 MW),
Old Delhi (2.2 MW),
Ananad Vihar( 1.1 MW), and
HazratNizamuddin (0.6 MW)
16 companies from all parts o India participated for RFQ (Request for Qualification Stage)  -only 9 companies qualified and were eligible for the second stage (RFP – Request for Proposal)
Only 3 companies were able to send proposal by asked deadline – Vivaan Solar, Madhav Infra and Amplus Power. As Vivaan Solar bid at the lowest rate among 3 at Rs. 4.14/unit , the project was awarded to Vivaan Solar.
Keep watching this space for further updates on this deal.