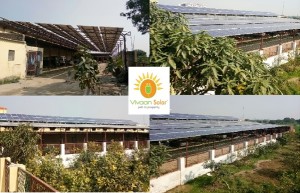 We are glad to announce that Vivaan Solar has successfully completed & commissioned the 200 Kw rooftop solar power project at the Sri Udasin Karshni Ashram in Mathura, Uttar Pradesh. The project cost was around INR 2.5 crores and was completed within a record time of 25 days from 1st Dec 2016-25 Dec 2016.
Vivaan Solar was responsible for design, engineering, civil work, construction as well as will be responsible for operation and maintenance of the rooftop solar power plant at the location. Like other general responsibilities with regards to rooftop solar PV projects, Vivaan Solar will manage the solar plant as long as the customer wishes. The rooftop solar power plant has a total of 680 solar modules each with a individual capacity of 320 watt.
About Vivaan Solar
Vivaan Solar as a EPC contractor is a solar PhotoVoltaic system installer & integrator. We have installed 60 MW solar park in Madhya Pradesh, 5 MW in Punjab, 8 MW in Uttarakhand and an upcoming park in Karnataka. We are also MNRE accredited channel partner for Rooftop. We have done turnkey works for multiple companies across the country and has third party agreements with some of the leading industries/commercial institutions across the state.