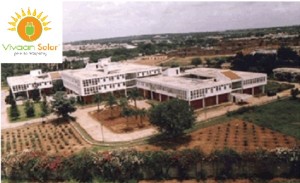 Project 1: Vivaan Solar's Rooftop Expertise to Power Rail Wheel Factory, Yelahanka, Karnataka
We are glad to announce that Vivaan Solar has bagged the contract to set up a 2 MW rooftop solar power plant at the Rail Wheel Factory, Yelahanka near Bengaluru Karnataka. Vivaan Solar which had participated in the tender process that was started in mid-2016 won the contract to set up solar PV rooftop project with the objective of generating and supplying solar power on Design, Build, Finance, Operate & Transfer (DBFOT) basis.Vivaan Solar will get the LOA for the prestigious project by 15 February 2017.Winning the tender adds another feather to Vivaan Solar's rooftop expertise to enhance the use of solar power.
The MNRE (Ministry of New and Renewable Energy) accredited channel partnerhas won the bid to generate and supply electricity using solar power to appropriate installations. Vivaan Solar was declared the L1 Bidder (Lowest Bidder) after beating out tough competition from other pre-qualified applicants who were also invited to submit RFP bid for the project including Premier Solar Systems Pvt. Ltd., Secunderabad; Fortum Solar India Ltd., Gurgaon; Azure Power India Pvt. Ltd., New Delhi; and Madhav Infra Project Ltd., Subhanpura. The estimated cost of the project is around INR 16 crores and the project is expected to be finished within a period of 12 months and will start generating power from January 2018 onwards.
About Rail Wheel Factory – Yelahanka
Rail Wheel Factory – Yelahanka near Bengaluru in Karnataka earlier known as Wheel and Axle Plant produces wheel, axle and wheel set for railroad wagons, coaches and locomotives for use by Indian Railways. The state-of-the-art plant meets bulk requirement of wheels, axles and wheel sets for Indian Railways which till the 1980s was only available at the TISCO and Durgapur Steel Plant with nearly 60% requirement met via imports. The spare capacity is used to meet the domestic demands for non-railway customers and exports.
The plant established in 1984 uses cast steel technology to manufacture wheels using scrap steel as raw material that is gathered from Railways own workshops. The products manufactured are engineered in ways that leaves little scrap. Rail Wheel Factory – Yelahanka has a total planned capacity to manufacture about 70,000 wheels of different sizes, 23,000 axles and assemble 23,000 wheel sets. The plant is ISO 9001:2000 and ISO 14001 certified unit among othersand was the 1stunit of Indian Railways to receive ISO 9001:2008 accreditation.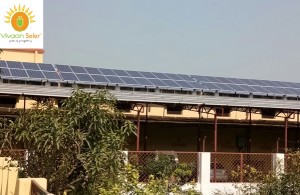 Project 2: Vivaan Solar's Bags 5.8 MW Rooftop Solar Project Under 5oo MW Rooftop Grid Connected Scheme
We are glad to announce that Vivaan Solar has bagged the contract to set up a total of 5.8 MW of rooftop solar power plant across several states of India under the 5oo MW rooftop grid connected scheme. Vivaan Solar won the contract to set up solar PV rooftop project with the objective of generating, supplying solar power under Design, Engineering, Manufacture, Supply, Erection, Testing and Commissioning (DEMSETC) including warranty, operation & maintenance of rooftop solar PV system. Vivaan Solar was selected as the L1 bidder under the 5oo MW rooftop grid connected scheme tender process that was started in mid-2016. Vivaan Solar will set up these rooftop solar PV system in 2 parts. In the 1st part referred to as Part A, Vivaan Solar will set up a total of 4 MW projects, in the 2nd part referred to as Part C, Vivaan Solar will setup 1.8 MW projects.
The scope of work for Vivaan Solar as the winning bidder includes among other things identifying buildings/leasing building rooftops for a period of 25 years, gaining NOC from power distribution company (DISCOM) for grid connectivity. Also as a project executer, Vivaan Solar will design, engineer, store, civil work, manufacture, supply, erect, test as well as commission the grid connected rooftop solar PV project within 12 months from the date of issue of LOA. Vivaan Solar will also be involved in Operation and Maintenance (O&M) for 5 years for projects allocated under PART-A & Part C. The cost of projects under Part A is around INR 1.75 crore, and under Part C the costs are around INR 0.6 crores.
Part A

Part C

The size of solar PV rooftop projects to be executed by Vivaan Solar range from more than 25 kWp to 500 kWp under Part-A and Part-B, while the size of each rooftop project under Part C will be maximum up to 25 kWp. Each of the completed rooftop solar project may comprise of several rooftop solar PV units with each roof top unit can separately connect with the power grid.
Vivaan Solar Responsibility Under Operation & Maintenance (O&M)
Vivaan Solar as the winning bidder for projects allocated under PART-A & PART-C will be responsible for the following activities under Operation & Maintenance of the rooftop solar PV projects for a period of 5 years.
1. For system sizes above 25 kwp, the set guidelines are to be followed
2. O&M of solar power plant shall be compliant with grid requirements to achieve committed energy generation.
3. Deputation of qualified and experienced engineer/ technician till the O&M period at the project site.
4. Periodic cleaning of solar photovoltaic modules.
5. Periodic checks of the photovoltaic modules, PCUs and BoSto be carried out routinelyto prevent breakdown.
6. Replace defective solar photovoltaic modules, Invertors/PCUs and other equipment as and when needed.
7. Supply of spares, consumables and fixtures as needed.
8. All the equipment needed for testing, commissioning and O&M for healthy operation of the rooftop solar plant
9. lf due to negligence there is any failure of equipment, such equipment are to be repaired/ replaced free of cost.
10. A person in charge of the project site will take a joint meter reading in the presence of rooftop owner on a daily basis and furnish data each month to SECI in the 1st week of each month.
11. Online performance monitoring, troubleshooting, controlling, maintenance of logs & records.
12. For any issue on O&M a toll-free number must be made available to the rooftop owner to resolve within 72 hours.
13. Metering and grid connectivity of the roof top solar PV system under this scheme in accordance with the guidelines of the concerned DISCOM and / or CEA.
About Vivaan Solar
Vivaan Solar as a EPC contractor is a solar PhotoVoltaic system installer & integrator. We have installed 60 MW solar park in Madhya Pradesh, 5 MW in Punjab, 8 MW in Uttarakhand and an upcoming park in Karnataka. We are also MNRE accredited channel partner for Rooftop. We have done turnkey works for multiple companies across the country and has third party agreements with some of the leading industries/commercial institutions across the state.