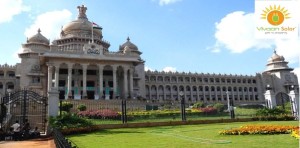 We are glad to announce that Vivaan Solar has opened a new corporate office in Bengaluru, Karnataka. The opening of the new corporate office comes close on the heels of Vivaan Solar winning the prestigious contract to set up a 2 MW rooftop solar power plant at the Rail Wheel Factory, Yelahanka near Bengaluru Karnataka.  The new office is expected to help Vivaan Solar expand its presence in South India; in particular Karnataka. It may be known that apart from the Rail Wheel Factory project; Vivaan Solar is setting up a 20 MW solar park in Karnataka. Currently Vivaan Solar is working on feverish pace to complete the 1st phase of 20 MW solar park by end of 2017. The new office location of Vivaan Solar is:-
Unit 913, Oxford Towers, Near Kodihalli Bus Stop, Old Airport Road, Kodihalli, Bengaluru, Karnataka 560008.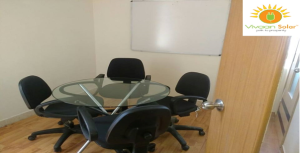 We are now established as a significant player in solar parks and rooftop solar in particular. Over the past few years we have been successful in winning and executing several projects totaling nearly 100 MW in Punjab, Uttarakhand, Uttar Pradesh, Karnataka, Madhya Pradesh, and NCR. Apart from Head Office in Gwalior, Madhya Pradesh we also have corporate office in Haridwar, Uttarakhand. The new office in Bengaluru, Karnataka will truly help Vvaan Solar emerge as a major player in solar power with Pan India presence. We hope that our new office in Bengaluru allows us to meet the expectations of our customers/end users/venders in the best possible manners.
About Vivaan Solar
Vivaan Solar as a EPC contractor is a solar PhotoVoltaic system installer & integrator. We have installed 60 MW solar park in Madhya Pradesh, 5 MW in Punjab, 8 MW in Uttarakhand and an upcoming park in Karnataka. We are also MNRE accredited channel partner for Rooftop. We have done turnkey works for multiple companies across the country and has third party agreements with some of the leading industries/commercial institutions across the state. We are an MNRE accredited channel partner. For more info you can visit our website: www.vivaansolar.com or contact us at mail- info@vivaansolar.com.