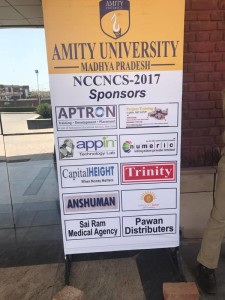 Vivaan Solar as diamond sponsor; co-sponsored the National Conference on Communication Network and Cyber Security from 12th to 13th April 2017. The two-day National Conference was organized by Amity University Gwalior also known as Amity University Madhya Pradesh to discuss the paramount topic of communication network and cyber security. During the 2 day meet several respected speakers from various esteemed institutions from across India enlightened the students on the topic of Communication Network and Cyber Security.
On this occasion over 150+ research papers were presented by research scholars and huge number of participants took part in the deliberations enthusiastically. The event is a regular feature organized by the Amity University Gwalior in the past couple of years and is graced by eminent persons. Alongside Vivaan Solar, the other companies who also cosponsored the event were Numeric Infosystem Pvt Ltd, 92.7 BIG FM, Appin Technology-Gwalior, The ASET TIMES & Capital Heights.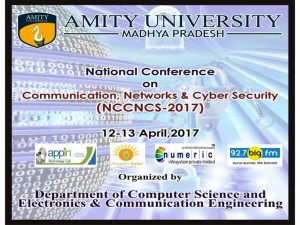 NCCNCS 2017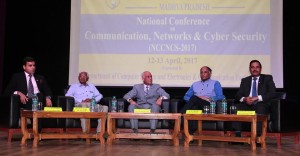 The NCCNCS 2017 or National Conference on Communication Network and Cyber Security 2017 held from April 12 to April 13, 2017 was organized by the Department of Computer Science and Electronics & Communication Engineering of Amity University, Gwalior. It was aimed to create awareness about current trends and identify potential research areas in the field of computer networking, communication, cyber-crimes and forensic.
It is also meant to facilitate interaction between industry, academia, organizations, research scholars to tackle global challenges from the perspective of new technological development in the field of computer science, electronics and engineering. The conference is aimed to allow participants to explore possible avenues to foster academic and student exchange in the areas of networking, communications and cyber security.
Vivaan Solar @ NCCNCS 2017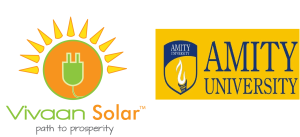 Vivaan Solar as a diamond sponsor; co-sponsored NCCNCS 2017 and got a chance to present its capabilities in front of the attendees during the 2-day conference. As a solar power EPC company, we explained the benefits of adopting solar power and its uses. As being associated with renewable energy, the ethos behind setting up the company to maximize the use of solar power was showcased by the company at the conference. Vivaan Solar not only discussed its capabilities but also talked about the various projects it has successfully executed or is in the process of execution as well as the projects it aims to bid for in future.
Vivaan Solar also explained in detail how India lies in temperate high solar insolation zone and can make use of the renewable and inexhaustible solar energy where the raw material is available at no cost; as well as utilization of barren land and minimal operational and maintenance cost incurred. We also shared our rich experience in different kinds of solar power installation; including rooftop solar photovoltaic units and solar parks as well as standalone solar power residential units. This resulted in lot of queries from inquisitive participants at the conference that was duely answered by Vivaan Solar. Subrat Sharma, the Design and O&M Head represented Vivaan Solar at the conference.
Amity University Gwalior
Amity University Madhya Pradesh (AUMP) is a private university established by the Ritnand Balved Education Foundation (RBEF), New Delhi which is a society registered under the Societies Registration Act, 1860 it has been established by Madhya Pradesh Act No. 27 of 2010 of Government of Madhya Pradesh and is recognized as per Section 2(f) of the UGC Act. The University Campus is located on 100 acres of land opposite Gwalior Airport with modern amenities like Spacious lecturer theaters, class rooms, seminar halls & auditorium.
About Vivaan Solar
Vivaan Solar as a EPC contractor is a solar PhotoVoltaic system installer & integrator. We have installed 60 MW solar park in Madhya Pradesh, 5 MW in Punjab, 8 MW in Uttarakhand and an upcoming park in Karnataka. We are also MNRE accredited channel partner for Rooftop. We have done turnkey works for multiple companies across the country and has third party agreements with some of the leading industries/commercial institutions across the state. We are an MNRE accredited channel partner. For more info you can visit our website: www.vivaansolar.com or contact us at mail- info@vivaansolar.com.